Intelligent Life? Posters
by
keendesigns
Look at another
framed print
on zazzle
Are We Alone?
That's a question we've been asking for a few hundred years. Of course, a few hundred years ago, asking that question could get you burnt at the stake.

Fortunately, today there is no penalty for asking. So in today's society, I can create the little alien ditty poster you see at left, with no more penalty than a few shaking heads (and hopefully a few laughs).
It's a burning question, as the origin of life itself is a burning question. On the one hand, we know that life must be a very compelling feature of our universe. The raw materials that comprise our solar system are common. Life got started on our fledgling planet some 3.5 billion years ago, when the planet was anything but hospitable. The atmosphere on Earth at that time was more like the poisonous atmosphere of Saturn's moon Titan. Even so. evidence shows that early anaerobic bacterial life somehow managed to get a foothold.
Yet as quickly as life started on Earth, it didn't flourish until a much more recent 500 to 600 million years ago. All that existed for nearly 3 billion years were simple organisms, trudging along with little impact. But impact the Earth, even though slowly, they did.

The Long Evolutionary Journey


After a billion years or so, photosynthesis occurred in some of those primitive Earth inhabitants. It served the little critters well, in that it let them tap a more portable form of energy -- sunlight. Even more importantly, the byproduct of that little evolutionary experiment produced oxygen. After a few million years, an entire new niche was created, one for forms of life that could use oxygen.
Extremophile T Shirts
by
keendesigns
Find other Satire T-Shirts at
zazzle.com
Bit by bit, those primitive
extremophile
organisms transformed the surface of the Earth. This paved the way for the explosion of biological complexity that began to occur some 500 to 600 million years ago.
But the 3 billion years of effort to get to that point strongly suggests that while life started early and persisted through extreme difficulty, it took a very long time before it cooked up the complex creatures that would eventually overwhelm our planet.
Much of that important history in the development of life and the move to more complex forms is still unknown. Why? Because the Earth is a dynamic body, and the entire geology of Earth, partly due to the tectonic nature of continents, has changed many times. The all important early fossil record is simply gone. Many hypotheses about how things might have begun can likely never be proven.
We can, for example, produce critical amino acids with the right chemical mixtures and some simulated lightening. Another recent hypothesis suggests that these amino acids can be created whenever a large body impacts a watery planet, or a watery comet impacts a planet. The enormous energy released in such collisions, added to the available of water as part of the mix, can create the important amino acids.
Is either of these possibilities the way the important chemistry began? There's likely no way to tell. Likely both happened. And even with the amino acids, it took perhaps a few hundred millions of years for the right thing to occur to move from a bunch of reactive chemicals and compounds to life. How can we compress millions of years into a laboratory experiment even if we start with the right chemical mix? Maybe we can't.
And there's the intriguing idea that
Panspermia
is the process that brought life to Earth. A particularly interesting suggestion is that life originated on Mars and then traveled to Earth via meteors ejected from Mars' surface from collisions with astroids. The idea is appealing because in those early years of our solar system, Mars was more conducive to harboring life than was Earth.
Sadly, the history of Mars shows that it was not stable enough to sustain life, or at least to let it evolve to more complex forms. Earth, on the other hand, has been rather remarkably stable (lucky for us). But can the Martian panspermia hypothesis ever be proven? Short of finding life on Mars and testing how similar it is to Earth life, probably not.
Extinction Events
After a few billion years of primitive life slowly setting the stage, some as yet unknown hurdle was passed which stimulated the development of extraordinary biological complexity. That began in earnest the evolutionary journey that eventually produced we humans. But the journey did not go smoothly. There were a number of major and minor
Extinction Events
that created havoc with the biological progress. One, the
Permian-Triassic Event
, nearly cleared the board altogether.
It's estimated that the Permian-Triassic event killed some 96% of all species in existence at that time. I recall a comment by one scientist on a documentary (sorry I don't recall the name) who said that if you could travel back and see the terrain shortly after that event, it would have looked little different than the surface of the moon. That is, you'd see hardly any life at all. Just a bleak, nearly dead planet.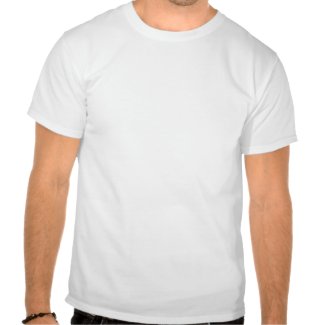 Evolution Limerick Shirt
by
keendesigns
Use Zazzle's
shirt designer
Dealing With Pessimism
So you might well understand the pessimism that some feel about the prospects of finding, much less communicating with, other intelligent life in our galaxy. On the one hand, the feeling is that as much as life had to contend with on Earth and yet still survive, that primitive life must surely exist all over the universe.
On the other hand -- the fact that it took billions of years before complex life developed, let along intelligent life, suggests strongly that intelligent life may be exceedingly rare. (I tend to think it's exceedingly rare right here on Earth).
We know that we humans came along only after multiple changes on the planet and numerous extinction events, and we have no idea whether all of this turmoil ultimately delayed or accelerated the development of the complexity that lead to intelligence. So how big of an anomaly are we?
The Drake Equation
Frank Drake tried to get a handle on that question clear back in 1961, when he proposed the famous
Drake Equation
as a way to estimate how many planets harboring intelligence might concurrently exist in our galaxy. His equation combines a few measurable parameters (not easy to measure though) and a string of probabilities into an equation that estimates the number of intelligent species that might exist in the Milky Way.
One interesting curiosity about the equation is that it appears that the number of concurrent intelligent species in the galaxy is roughly equal to the number of years that a technologically capable species survives. In our case, we've been highly technical for less than 100 years, and the case is still out whether we'll destroy ourselves before much longer. So the number of concurrent intelligently occupied planets ranges between 100 and perhaps 1000, by many estimates.
That seems like a pretty good number, right? But that's spread over a galaxy that's some 100,000 light years in diameter. So the likelihood of a close neighbor isn't exactly good. You can get your own estimates by adjusting the Drake equation toggles at the
Little Green Men
web page.
A little Optimism
If you play with the parameters, I think you'll find that it takes extremely optimistic values to come up with numbers that give us a fighting chance of discovering another intelligent species. But still we persist. There are some things that give us hope.
The fact that life started so early here on Earth, in such inhospitable conditions, is cause for hope.
The fact that multiple planet-wide calamities couldn't completely extinguish the life on Earth.
The fact that everywhere we find water on Earth, we find life. And our solar system has lots of water. Other systems are likely similar.
The fact that there are at least 200 billions stars in our galaxy, and a very large number of them are similar to our sun.
The fact, born out by the Kepler Space Telescope, that planets around stars are common, and at least a small percentage of them are not too unlike Earth.
The fact that there are many large moons of the numerous gas giant plants in our galaxy. Some of these moons may well serve biological duty as well as our Earth does.
So we search on, and who knows. Perhaps any day now the
SETI
exploration may announce the big news -- the reception of signals that could only have been produced by extraterrestrial intelligence.
I can hardly wait.